Category News
Pictures
Hyzer TV
German Tour 09
...von R. Delisle Jr.

Guestbook

Shop
T-shirts & more!
:Hermes' SurfTips:
HYZERNAUTS VICTORIOUS AT THE GERMAN CHAMPIONSHIPS

Aku did it again!
Munichs Discgolfer met today in Fröttmaning to render homage ("huld") to the illuminated windmill. After 36 terrifying holes:



Smiley Bull aka. Andreas Kucera defend his title!
Inofficial result:
1. Smiley Bull (A.Kucera) 107
2. Pirate (T.Fuchs) 117
3. Sohn (N.Haag) 118
4. Paps (R.Haag) 121
5. Hummel (H.Kucera) 128
6. Ich hatte leider 6 (C.Kranz) 132
7. chrrrsch (M.Männig) 146

Discgolf-virus is spreading over Brandenburg-County!!!
48 Players participated at the grand opening tournament at Familiengarten Eberswalde on the 29th of November. The permanent 13 hole layout was enlarged to 15, to fit the field and to give a glimpse on what the avid players would get on the fist two-day clash in coming spring, when the course will have a proper, but temporarily limited 18-hole look.
Springtime temperatures on the first advent and a exited crowd, mostly from Potsdam and Berlin, formed the second scoop in the young TD-Career of Jörg Eberts as an unforgettable event. Young gun Victor Braun (-6) was tied after two rounds with no other than Hyzernauts Best Bobby Nautilus.
On hole 10, the two combatants had to find out, who's the best. It leads beyond two huge concert-tents towards a basket on top of a crest. Bobby missed his Birdie-chance and the talented youngster, out of an old Frisbee-mafia clan, took his chance and nailed his technically advanced 40 footer, uphill and around some bushes, with a deadcenter midrange-putt.
Congrats to the honourable winner!

Schlosspark Challenge Lüebbenau

Susann Fischer - Potsdams' finest still unbeatable!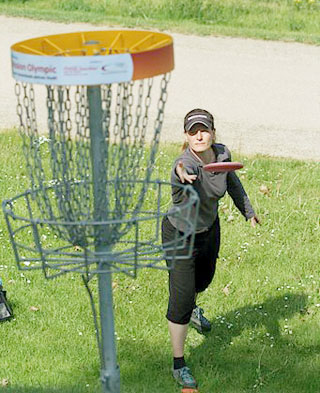 Susann Fischer kills a hole twice:
1. with style. 2. with technique.

Dassel - a sunny success for Team Hyzernaut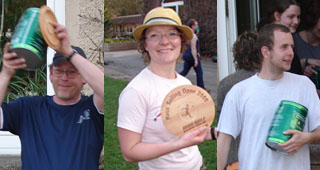 2nd European Ladies Cup on 8th - 10th May 2009
This year again, Hyzernauts' ladies division organises the second ladies tournament. The course was slightly redesigned and is tough as usual. Tournament-fee will cost 20 Euros for the open division and 10 for amateurs. (It is by far more important to have a budget to travel then to pay expensive starter-fees ;-) TD Astrid Dittmann is looking forward to see you on the course!

Registration and further information here!


Icebowl
Everyone is invited to join the Hyzernauts third Icebowl at
the parcours in Potsdam. All the money, which is been raised is to help a poor girls leisure programm in Potsdam.
Fee: 7 Euro
Sunday 2nd February
Bahn 1 am Holzdeck

08:30 registration
09:00 Players Meeting
09:30 Round #1
lunchbreak with Icebowl competition
12:30 RRound #2
15:45 Finals with the best 5 players and award ceremony

Halloween golfing in Potsdam

Good mood in Poing!
Hyzermatic 5000 wins the Summer Challenge and takes back the crown to the Hyzernauts!
Here ist the official result

Great pictures and results
Bobby beats the Euro-Champ
Another great result for the Hyzernauts! In the Masters Division Bobby Nautilus beat both European Champion Christer Köhler and friend and Vice Euro Champ Klaus Kattwinkel. In round 3 he played a round rating of 1000! The hyzernauts are proud to be represented in the European Top! Go Chicken Bob!

Notorious Gregorious in form
The Hyzernauts set their first mark on this year´s German Tour! Hyzernaut Greg is only just beaten by Michi Stelzer, the stock bull from Söhnstetten. Rock on!

Asti´riod wins the HHH-Special!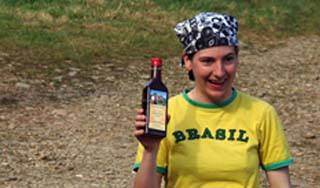 Germantour starts in the Black Forrest. Beautiful spring weather, good atmosphere, great food und challenging rounds brought the best out of us. Chris Schülling (Airhawks) of the Open Division managed it the best und Astrid of team Hyzernauts won the specials. Congratulation und cheers. See pictures soon.

BERLIN,
POTSDAM,
MUNICH.
check out our schedule here!

1 €
Ergebnisse